About Ganjam College
(AFFILIATED TO BERHAMPUR UNIVERSITY,GANJAM,ODISHA)
Ganjam College is located at the backdrop of the historic Potagada Fort and the scenic spread of the Rushikulya river.Nestled on one side by the Rushikulya rookery,the nesting place of the famed Olive Ridley turtles,and on the other side by the wild growth of the fragrant Keora plants,the college stands as a meeting point of History,Nature and Culture.
Ganjam College,Ganjam came into existence on the 7th day of August, 1969, with the initiative of the people of Ganjam town and active role of Sri R.P Padhy, the then Vice Chancellor of Berhampur University.Odisha.Sri Prahallad Panda was the first principal of the college.Mahanta Sri Raghunath Ramanuja Das and Sri Narayan Pands,Ex-MLA were the President and the Secretary of the Governing Body respectively.
Originally started as an Institution for imparting education at Intermediate level in Humanities,the college has,over the years,developed into a full fledged degree college with the three faculties – Arts,Science and Commerce.At present the college has provision of teaching Honours level in all faculties and it is affiliated to Berhampur University,Berhampur,Ganjam,Odisha.
OUR VALUES
Extending values beyond the classroom by making sure skills and concepts taught in the classroom are authentically useful in the world beyond school.
OUR STRATEGY
Offering a multicultural and friendly environment in which students can successfully learn basic skills and core academic content, develop their special talents and social competencies.
OUR MISSION
To ensure qualitative higher education to all the students with an aim to instill among them a sense of truth and justice so as to bring about a decisive,positive change in the society.
Welcome to Ganjam College, Ganjam, a well known Government-aided college affiliated to Berhampur University, Odisha imparting finest quality education. Located near Rushikulya River, Ganjam College, Ganjam offers a stimulating ambience for learning and caters to the need of the students of this area, irrespective of their socio-economic status. The college has a student friendly campus with laboratories, highly qualified faculty-members and library to help the students to attain the highest standard in academic and professional skills. I thank you for your interest in this College which has recorded five decades of eventful records, in the course of which it has accomplished much, making it one of the well known colleges of this area recognized for its excellence and achievements.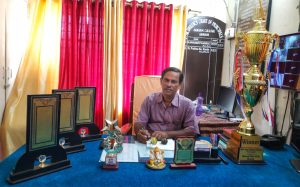 SHRI SIMANCHALA BHOLA
M.A (PHILOSOPHY) ,M.PHIL
Principal